For adults with active non-radiographic axial spondyloarthritis
Watch the video to see how COSENTYX is thought to work to help people with non-radiographic axial spondyloarthritis (nr-axSpA).†
Did you know an overactive immune system is like an overactive tennis ball machine? There are multiple molecules in the body that may play a role in causing inflammation. The IL-17A molecule is just one of them.
Patient portrayal of how COSENTYX works.
†The relationship between how COSENTYX works in the body and how it affects your symptoms is unknown
What makes COSENTYX different?
COSENTYX is the first FDA-approved biologic of its kind to treat nr-axSpA by targeting a molecule called IL-17A. It's one of the molecules that could play a role in inflammation in people with non-radiographic axial spondyloarthritis. A biologic is a protein-based medication that is made from living sources and taken by injection or infusion.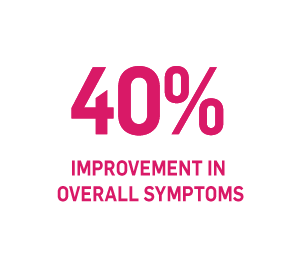 COSENTYX can help reduce
nr-axSpA symptoms so you don't have to fight as hard through your day.
In a clinical trial, many people taking COSENTYX saw at least a 40% improvement in overall symptoms at 16 weeks,† with many continuing to see similar results at 1 year.‡
†41% of people taking COSENTYX vs 28% taking placebo.
‡38% of people taking COSENTYX vs 19% taking placebo.
COSENTYX is the #1 prescribed treatment of its kind§
Over 3.7 million prescriptions§ of COSENTYX have been filled in the United States
COSENTYX has been studied for over 15 years in dozens of clinical trials
§Across all indications combined.
COSENTYX Experience
COSENTYX has a well-studied safety profile. In 2015, COSENTYX was FDA approved to treat adults with moderate to severe plaque psoriasis. In 2016, it was FDA approved to treat active ankylosing spondylitis and active psoriatic arthritis in adults. Then, it was approved in 2020 to treat adults with non-radiographic axial spondyloarthritis. It has since been approved to treat children with plaque psoriasis (6 and older), psoriatic arthritis (2 and older), and enthesitis-related arthritis (4 and older).