Watch the UnoReady Pen Injection training video (300 mg)
Watch the How to Use the UnoReady Pen video for a demonstration on how to inject. 
Download and print the step-by-step Instructions for Use ↗ so you can have them handy whenever you need them. For more information about using the UnoReady Pen, download and print the Quick Tips Brochure.
Using the UnoReady Pen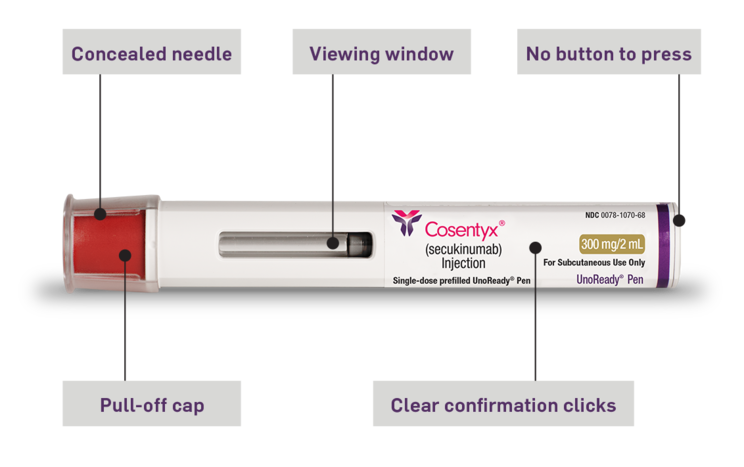 The COSENTYX® UnoReady® Pen has a 100% satisfaction rating.†
The COSENTYX UnoReady Pen is a single, 300-mg injection

Design is convenient and easy to use

The needle is hidden

The cap is not made with natural rubber latex.

The majority of people experience no pain with the injection‡
†Based on a study in which all 37 participants using the UnoReady Pen reported being satisfied or very satisfied with the device at 28 weeks. 
‡Based on a study in which 30 of 38 participants using the UnoReady Pen reported no pain with the injection at 12 weeks.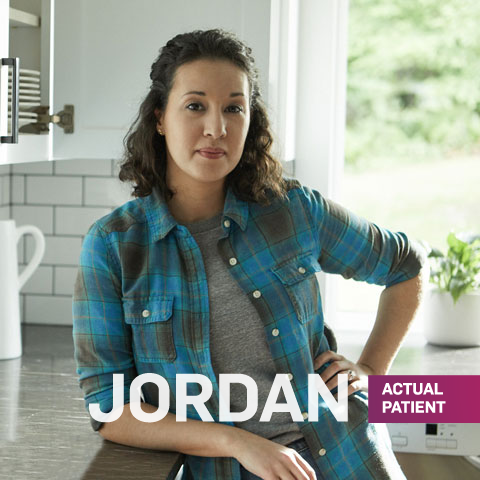 "I think having a routine is important because it helps you know what to expect. It helps you mentally adjust." 
 
Real people taking COSENTYX have created personal routines around taking their injection. Want some ideas for creating your own injection-time routine? Try finding a peaceful spot in your home, listening to your favorite song, or celebrating with a post-injection treat.

COSENTYX® Connect is here for you
COSENTYX® Connect is a personalized support program for people taking or considering COSENTYX. Sign up now for access to a full range of services and support, like a COSENTYX® Connect Team Member, the COSENTYX® Connect Co-Pay program, if privately insured and otherwise eligible, and injection resources to make your experience with COSENTYX as easy, affordable, and convenient as possible. Please see co-pay Terms & Conditions below.